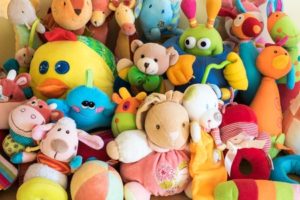 There are few things that young children love more than their stuffed animals, and there will come a time in every parent's life when you start to wonder, "How many stuffed animals is too many?" This question usually comes about when your child no longer has room to sleep in their bed, because the entirety of it is covered in their much loved stuffed friends. And since we at The Zoo Factory are stuffed animal lovers through and through, we know that there is no such thing as too many stuffed animals!
If you are facing an overflow of stuffed animals in your child's room, but understand that they cannot be parted from any of their fluffy friends, here are a few ideas to help keep your son or daughter's stuffed animals from taking over the entirety of their bedroom.
Shelving
A great way to keep your child's stuffed animals organized while adding a touch of style to the walls of his or her bedroom, shelved are an attractive storage solution. The best part of this situation: As your young child grows older then can continue to use these shelves for sports trophies, academic awards, books and trinkets.
Netting
Hung in the corner of the bedroom, netting is an inexpensive storage solution for an overflowing amount of stuffed animals. Just toss your child's stuffed animal friends into the net when they are done playing to make extra space around their bedroom.
Depending on your child's age, you may want to put a step stool near the net so they can easily get stuffed animal friends in and out on their own.
Closet Organizer
Available at most general merchandise stores, closet organizers are a handy way to keep stuffed animals out of sight when they are not in use. Hung in your child's closet or the closet in the playroom, an organizer that reaches to the floor will have more than enough room for all your child's stuffed animals. We recommend putting their favorite friends neat the bottom so they can grab them on their own when it's time for their next tea party or adventure.
For more stuffed animal storage solutions, check out this WooHome.com article.
Now that you have plenty of room for your son or daughter's stuffed animal collection, it's time to give everyone a bath before putting them in their new home! To ensure your child's stuffed animals make it through the laundry machine safely, we recommend using the Teddy Needs a Bath Laundry Bag. Currently on sale for just $7.00 here at The Zoo Factory, this bag is made of 100% cotton and is perfect for the washing of all delicate items.