Looking for an inexpensive birthday party for your child where his friends and guests can enjoy and take home gifts? How about a stuffable animal birthday party!
Pick a litter of 8-inch stuffed animal kittens for $26.95, add on some apparel for the customizable animals and some accessories and have a fun build a stuffed animal party where everyone can be involved.
The Zoo Factory has the stuffing, plenty of accessories and apparel to make each animal unique while using your child's creativity to make something he or she can truly call their own. It's a way to have fun, be creative at a
relatively inexpensive price and something you child and truly be proud of.  The best part about it, the guests can take home their creations too and will be a birthday party they can remember too!
Check out all the unique animals, apparel, and accessories The Zoo Factory has to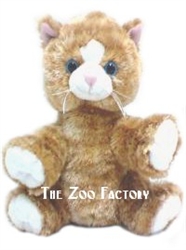 offer and make your child's next birthday party, a stuffable animal birthday extravaganza!
Here are the four kittens that come in our litter for a stuffed animal party!