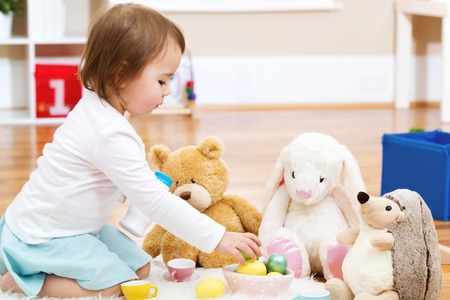 More and more children in America are growing up in a bilingual household. Back in 2016, 22% of children in the United States spoke a language other than English at home. For parents who want to encourage bilingualism in their children, stuffed animals are a great way to do it. Here's how:
Stuffed animals and language skills
Even if a child's stuffed animals don't have a sound box, they're still a great way to teach your children different languages. Pretend play allows children to practice the different words and phrases that they've learned in front of a non-judgmental audience (i.e. their dolls and stuffed animals). This kind of experimentation can help them practice phrases they've learned at home as well as English phrases that they've learned at school.
Choose a toy carefully
If you want your child to play with this stuffed animal, you need to make sure that they actually like it first. In that respect, you'll want to let your child choose the stuffed animal themselves rather than you picking one out for them.
Create a backstory and personality
To make the stuffed animal seem more real, give them a unique backstory and personality. Together with your child, figure out where your toy was "born," what languages they speak (for example, they can speak both English and the language you speak at home, or they can speak just one of them), and what their likes and dislikes are. Don't force any of these decisions, but let a stuffed animal's story come about naturally.
Stand by as a translator
While a stuffed animal can help your child practice their language skills, they may need a helping hand depending on how well they know either language. This means that you should step in as the one talking for the stuffed animal and helping your child out when need be.
We at The Zoo Factory have plenty of stuffable animals that can help to encourage your child's bilingualism. Look through our site to pick out your child's new best friend today!