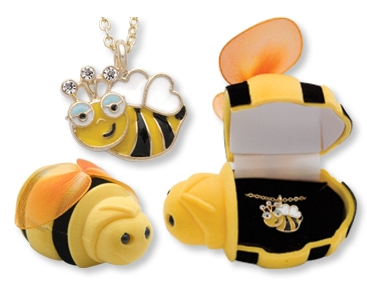 Growing up, we all had that that one animal that we loved and adored. We wished that we could take them around with us everywhere we went. Well, with these special necklaces, now you can!
Our necklaces are not only a great value, they are super stylish too. In a variety of animals, these would be great as a gift. There are necklaces with all sorts of animals on them, so no matter what the preference, there is something here for everyone.
Girls love to accessorize and dress up. Why not give them the opportunity to do so with something that they love? This is a great opportunity to have them show off their individuality.
Another great perk is that they come in adorable carrying cases. Many times, they look just like the object on the necklace! You can never be too coordinated, right? It's like getting a gift within a gift.
And, for some of us who have a sweet tooth, there are also cupcake necklaces with matching bejeweled cases. They look so good you want to eat them! (Although, for safety reasons, we suggest you don't actually do this.) Our necklaces are safe for young children and do not have any harmful lead or chemicals.
So for birthdays, holidays, graduation, and any other gift giving holiday that hasn't been mentioned, consider giving that special girl the gift of these cute necklaces that are easily affordable.  She will be glad you did!