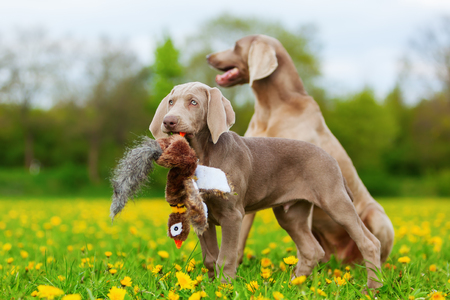 There's nothing cuter than a dog nestling up with their favorite stuffed animal. Many dogs have a great affection for stuffed animals, much like we do, but why is that the case?
It's in their genes
Different dog breeds exhibit different character traits towards stuffed animals based on their ancestors. Dogs traditionally used for hunting and carrying game, such as Labradors or other Retrievers, have a genetic drive or instinct to hunt or prey on smaller animals. In that regard, carrying around a stuffed animal is very similar to carrying around their prey.
Dogs form attachments to their stuffed animals
You don't have to be a human to play games with a stuffed animal. Dogs, too, enjoy playing around with them simply because it's a fun thing to do. This causes our dogs to form an attachment to their stuffed animal as they would with any of their favorite toys. They may even believe they're taking care of the toy like they would a puppy.
A stuffed animal reminds our dogs of us
Pets are intelligent and can make connections between special moments with their favorite toy and happy memories of you. Giving your dog a new toy makes them happy, symbolizing a special moment that impacts your pet in a unique way, and because they love and respect you, they choose to love and care for the toy as a result. This is likely why our pets attempt to play with us when playing with their toys.
Looking for a stuffed animal for your dog? With dozens of fun, soft animals to choose from, The Zoo Factory can help you find the perfect stuffed animal for your dog, or for someone else in your family.