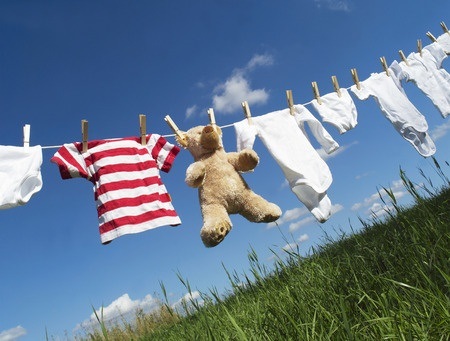 If you haven't yet cleaned the teddy bear that your child sleeps with on a night basis, you're not alone. Washing stuffed animals can be a hassle and many children don't want to part with their teddy, period.
The Zoo Factory some several suggestions on how you can clean your child's teddy bear to ensure that they remain fresh and loveable for years.
Check the Tag
Many stuffed animals are machine-washable (including ours) but you should always check a stuffed animal's tag for washing instructions. If it doesn't indicate washing instructions, you can usually get away with a cold wash on a delicate cycle or soaking it in cold water with detergent.
Use a Garment Bag
A garment bag typically protects a teddy's plushness, making sure that it doesn't get harmed in the washing machine. This can often allow you to wash it with other items, but we suggest washing teddy alone in order to be sage! If you don't have a garment bag, you can use a pillow case that zips closed as an alternate.
Allow a Natural Dry
The dryer can be a little hard on teddy's fur, instead, place teddy somewhere comfortable (preferably outside) to air dry. Make sure the teddy is completely dry before you returning it your child. A teddy that gets soaked might be damp on inside which can result in a build-up of bacteria. If you have a hair dryer, use that to speed the drying process and to ensure the inside of the bear gets dried too.
Consider a Spot Clean
If teddy has a tendency to stick his foot in spaghetti sauce or toothpaste, most of these stains can be easily spot cleaned. Use a damp cloth along with a blotting method to remove stains and spots. If water isn't doing the job, use a tiny drop of detergent and use a clean damp cloth to remove the detergent from the toy.
Looking for another stuffed animal to add to the family? Make your own stuffed animal with Stuffable Animal Kits from The Zoo Factory. With dozens of fun, soft animals to choose from, your child can pick out his or her new favorite friend and toy.