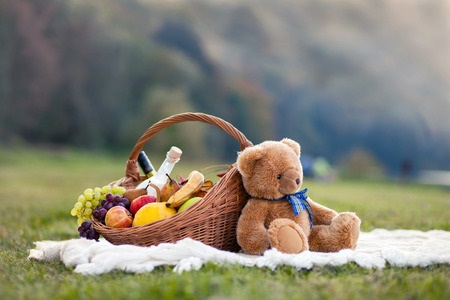 Now that sunshine has become consistent across the United States, many people are eager to get outside with their families and enjoy the weather while it lasts.
If you're looking for a way to keep your children busy now that school is out for the summer, consider helping them host a teddy bear picnic.
Guests and Invitations
Consider inviting your child's classroom pals to a teddy bear picnic party for one last "gathering" as the children part ways for the summer months. Encourage guests to dress up as teddy bears or allow them to create their own costumes at the party; bear ears or masks are some easy and fun ways to incorporate your theme. Face painting is another great idea for those skilled enough to turn children into fuzzy bears!
Create some fun bear-shaped invitations and make sure to invite each guest's teddy bear as well. For introductions, have each child introduce their teddy bear to everyone after they introduce themselves.
Venue and Decorations
Hosting a teddy bear picnic party outdoors in your backyard or at a park is ideal, as you can use the natural settings as your decorations. However, in the event of rain, hosting a picnic inside is also easy with the right decorations.
To start, grab all the teddy bears you have and set up some plastic tea sets between the bears. Grab some brightly colored blankets to serve as seating for the party. Find creative ways to use picnic baskets, like for holding utensils or for games. Finish off the decorations with some balloons and streamers.
Food and Activities
Go for picnic-themed foods, like sandwiches, fruits, chips, and ice cream. Add some fun touches with bear-shaped foods – just grab a bear-shaped cookie cutter and go to town. Consider Teddy Grahams and gummy bears to fit your theme. Remember to serve your food on brightly colored or bear-themed plates.
For entertainment, grab some books about bears and have a read along. Set up some crafts for kids to make their own bears, and teach partygoers some bear songs like "Teddy Bear, Teddy Bear." Consider showing a movie featuring a bear, like Winnie the Pooh.
Another great activity is to let children bring their own new teddy bear or stuffed animal to life! The Zoo Factory offers stuffable bears and other animals perfect for making memories at parties. Complete your party with this fun activity and your teddy bear picnic will be a great success!