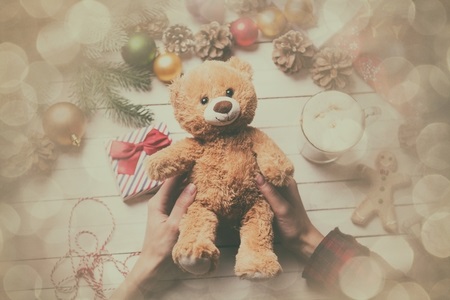 In an age where remarkable digital toys and daring technologies surprise and delight kids of all ages, you may stop and wonder if good, old-fashioned toys still make an impact on children. The short answer is yes.
 Classic toys like the loveable teddy bear are still around and make popular choices for holiday gifts.
The proof is found in the marketing tactics of well-known brands this holiday season. An established retail chain took advertising with a teddy bear to the next level with their Canadian ad featuring a teddy bear that comes to life when the store closes.
The ad opens with the bear sitting on a shelf next to a wide variety of other, modern toys. Shoppers choose toys to place into their cart, but everyone seems to be avoiding the teddy bear. When the store closes and the lights turn out, the teddy bear magically springs to life, climbing down from the shelf to explore. We see the bear dress up in a rainbow wig and read a book, ride a fire truck, use a tablet, and eat about an abundance of ice cream.
When the store reopens, the teddy bear hops back onto his shelf to endure another day of shopping in the hopes of getting picked among the other toys. Luckily, on this day, a customer picks the bear off the shelf, and in the next scene we see a little girl unwrap the bear on Christmas morning. As she hugs the bear, her joy radiates from the screen and the words, "holiday magic starts with believing" appear.
By bringing a teddy bear to life, stores help recreate the appeal and warmth of teddy bears, making them inviting to children who already consider their stuffed animals as "alive." The holidays are a time of magic and wonder, and using the classic teddy bear as an advertising tactic is a great way to show how old-fashioned toys still have their place in today's digital world.
To gift your own teddy bear magic this season, shop at The Zoo Factory. Let your children make their own stuffed animal with our stuffable animal kits. Each child will experience an instant connection with their new stuffed friend with a birth certificate, unstuffed animal, wishing star and stuffing instructions so they can bring their pal to life.