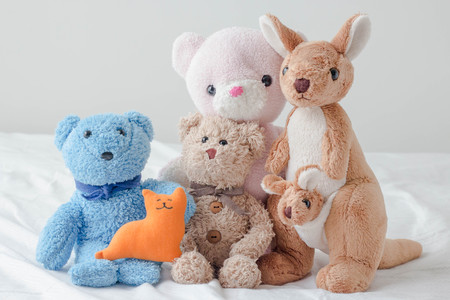 When we get a new stuffed animal, we automatically begin to form an attachment. As a result, we often like to give our stuffed animals names in order to feel closer to them. For some, this is easy, but for others it can be an agonizing decision, almost like naming a pet. So, if you or your child is struggling to come up with a name for a new stuffable friend, then read over some of these tips to finding the perfect name:
Consider your toy's features
Take a good look at your stuffed animal. Is it fluffy? Does it have a big head? Is it a teddy bear or a dinosaur? The features of your stuffed animal will help you find some inspiration for finding the right name.
Keep it simple
You don't want a long and complicated name for your stuffed animal—you might find yourself forgetting it—so keep it short and sweet. If you really do want a longer name, then consider using a nickname that you can regularly use.
Name it after someone or something
Do you have a person or something you admire? Then feel free to name your stuffed animal after them! It's a touching tribute, plus it'll ensure that you always remember the name. You can even shorten the name of someone. For example, if someone you know is named Michael, then name your stuffed animal Mike or Mikey.
Don't overthink it
At the end of the day, it's best not to overthink the name you give your stuffed animal. While you may want something special and unique, there's nothing wrong with naming your stuffed animal "Fluffy" if that's the first thing that pops into your head. Sometimes the names that come naturally are the best ones to use, so feel free to go with your gut when it comes to naming your stuffed animal.
Looking for a new best friend for yourself or you child? Then take a look at the stuffable animals brought to you by The Zoo Factory. From teddy bears to dinosaurs, we're sure you'll find the right friend—and the right name—for you.