Some of the most popular types of stuffed toys are creatures that we wouldn't find if we stopped by the zoo or hiked a trail into the forest.
Animals like dragons and unicorns invoke the creative receptors of our imaginations, and that's why games, stuffed animals, and television shows based on these mystical creatures are currently trending with children.
The Unicorn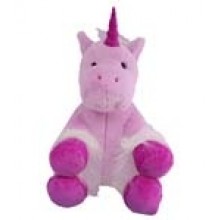 The unicorn is a magical creature with a single horn on his head that otherwise resembles a horse. Some say the relationship children have with unicorns is similar to the relationship between mankind and horses; each are different, but understand the other intuitively and can communicate in a special way. Unicorns are adventure-loving creatures that encourage kids to reach for the stars. Unicorns are often the stars of books, TV shows, and movies for the younger audience.
The unicorn craze represents the country's love of all things magical, glittery and fun, as well as a nod towards the nostalgic. Perhaps we as adults are craving a bit of that childhood magic that the unicorn represented all those years ago. For our kids now, a unicorn toy can bring them joy and a little taste of magic.
The Dragon
Dragons have a bit of a darker connotation, but the interest—or, obsession—is undeniable. While many dragons we might immediately think of are mean or violent creatures, Chinese culture has a different take. Most Chinese dragons that are featured in folklore and history were benevolent creatures, sometimes with divine origins. Despite their frightening appearance, they were creatures of good.
The friendly dragon is a staple of our pop culture; just take a look at the search results that come up when you type in "How to Train your Dragon;" which was one of the top-grossing animated films of 2010.
In many kids' movies and books, dragons are curious, brave and full of life lessons and good values, even though they're not real. A plush dragon toy can encourage your child to be fearless in the face of whatever it is that scares them.
What's life without a little make believe? Here at The Zoo Factory, we think all kids deserve a magical and imaginative childhood; help to create it for them with a mystical plush toy from our factory.