A teddy bear can symbolize a variety of things such as love, lo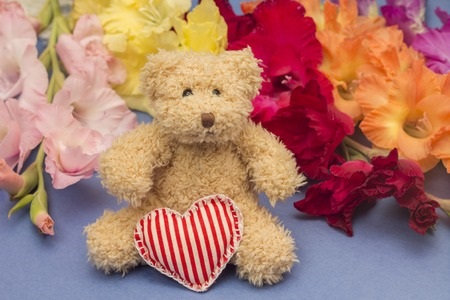 yalty, faith, growth, and happiness. A teddy bear can serve as a "get well card" or a heartfelt romantic gesture. Teddy bears come in a variety of sizes, shapes, and colors, and believe it not, the color of a teddy bear typically has a specific meaning associated with it.
Although we'd encourage you to simply pick the teddy bear simply you like the most, it's fun to know what the color might mean:
Green
Shades of green often symbolize things such as growth, harmony, freshness, and fertility. Green represents a very strong emotional connection and is perfect for an expectant mother or someone that you have built a strong relationship with that you are hoping to develop into something more.
Red
A red teddy bear is a bold declaration of love, and if you want to make a statement about how much you love someone, a red bear is a sweet way to do so! The color red is representative of passion, desire, and never-ending love: a red teddy bear does a great job of showcasing that.
Brown
We absolutely adore a brown teddy bear. A brown teddy bear is the "go-to" classic teddy bear color which represents stability, support, and protection. If you just want to simply show someone that you care about them or provide a sweet source of comfort to a little one, a brown teddy bear is guaranteed to make someone smile.
Orange
An orange teddy bear is extremely unique and vibrant, and it stands out against most other bears. The color orange typically indicates happiness and enthusiasm. If your goal is to make someone smile, an orange teddy bear will give them instant energy and joy.
White
The color white is typically symbolic of peace, purity, innocence and good spirits. For someone that is seeking a new beginning, a white teddy bear is ideal. However, a white teddy bear is rumored to indicate that a relationship is just a friendship and nothing more, and usually does not indicate a romantic gesture.
Hoping to get someone special the perfect teddy bear? Visit The Zoo Factory for a variety of animals, outfits, and extras.