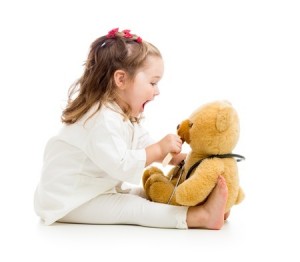 When you think back to your childhood and your favorite stuffed animal, what do you see? If it's a teddy bear with loose stitching or a missing arm, it is obvious that your stuffed friend was well-loved. And while your mom might have replaced a missing eye with a button, or continually re-stitched the same hole, Second Life Toys – a Japanese campaign created by Dentsu Japan – has found a creative and beautiful way to give new life to old stuffed animals.
A country that has the lowest rate of organ transplants in the industrialized world, Japan wanted to spread awareness for the concept of organ donation and let individuals across the country know how it works with the help of stuffed animal transplants.
Participants will take a photograph of their toy for approval, sending the actual animal in for "surgery" through the mail once approved. Animals will be given new life with transplanted limbs, showing individuals that organ donation is an enhancement, not a compensation.
Examples include a deer with new, fuzzy pink back legs and a white bunny with a new, floral printed ear.
This program is especially wonderful for introducing the concept of organ donation to children, and we at The Zoo Factory think it is a beautiful project that combines learning with whimsical fun.
While there isn't a program like this to bring new life to U.S. stuffed animals, we do have advice to help keep new stuffed critters in the best shape possible.
Especially for the stuffed animals that your children play with the most, pay close attention to their seams, checking them regularly for small rips and tears. A little hole under a bears arm is much easier to repair than a missing limb!
We recommend sewing injuries by hand, keeping stitches close and matching the thread to the fur color.
It is also important to keep your stuffed friend clean, but just throwing it in the washing machine could cause extra wear.
Our Teddy Needs a Bath Laundry Bags are the perfect alternative, preventing your children's treasured stuffed animals from being damaged in the washing machine while providing them with the deep clean necessary to keep them looking their best for years to come.
For all your stuffable animal needs, visit The Zoo Factory online or contact us by phone at 866-993-3325. Whether you are hosting a birthday party or just looking for a fun activity to do with your kids, stuffing 8" or 16" animals is sure to be a fun time!