Parents are always looking for a way to make their child's birthday party memorable. Whether it is special decorations, a character themed party, awesome games, and prizes, parents of little ones want their child's day to be significant in every way possible.
As we scour through dozens of Pinterest pages, get tips from friends and family and even take notes from the things our little ones say, we still may come up short on an idea.
So what is a parent to do?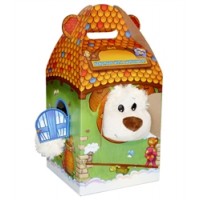 An ideal birthday party activity is one that can be done with the group and can be a great "thank you" gift for attending. We are not talking about the traditional goody bags filled with candy and fun little trinkets. We are talking about putting together stuffed animals.
Stuffed animals are and will always remain a favorite among little children. At your child's birthday party, why not allow all of the kids to stuff their own friend. This is not only fun but memorable for all involved.
Probably one of the coolest parts of stuffing animals at the birthday party is not just the actual stuffing; it's the creativeness that is put into making the friend unique. You can allow the kids to use their imaginations and draw whatever they want on their animals. Maybe the birthday girl or boy would like all of their friends to sign their animal? Or they can draw pictures of their favorite things like sunshine, rainbows, flowers, and animals.
In addition to fabric markers, we also carry home carry boxes which look like a little house for the stuffed animal and also wishing stars where the children can make a wish upon the star and then place the star in the animal before it closes.
At The Zoo Factory, we have all of the above-mentioned accessories to help make the birthday party stuffed friends personal. For more information or questions on the products we offer, contact us today!