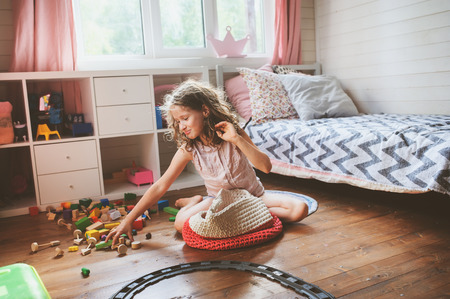 "Go clean your room!"
It's something you say at least once a week, but chances are the last thing your kid does is go and clean their room. Even if they do listen to you, it's likely after a lot of moaning and groaning, but it doesn't have to be this way. Here are some ways you can get your kid to clean their room without all of the yelling and groaning that's usually involved.
Make it a game
If you make cleaning fun, chances are your kids are more likely to do it. To do this, try turning it into a game. For example, you can play "Last Thing on the Floor" where your child has to pick everything up off the floor within a certain time frame. You could also do make-believe maid in order to spark their imagination.
Set an example
Your child is less likely to clean their own room if they notice that you don't clean yours. Instead, try to set a good example by keeping things clean and tidy around the house.
Help them out
If your child is on the younger side, it's best to try and help them clean their room until they get used to it. Show them the ropes, then let them take over a little bit more each time. Just make sure that you don't find yourself being the only one working while your kid is goofing off.
Have bins for their toys
The majority of the time, the reasons your kid's room is messy is because they don't pick up after themselves after playtime. So, try to have a storage system for all of your child's toys and stuffed animals. Then, try and encourage them to clean up after themselves every time playtime is over so that there isn't an enormous mess by the end of the week.
Use incentives
We don't like to bribe our kids to clean their rooms, but sometimes a little candy or money afterward doesn't hurt. You could even offer a reward for cleaning their room for entire month in order to keep them going.
With these ideas in mind, it should no longer be a battle to get your child to clean their room each week. Plus, once a room is cleaned, there's plenty more space to store a few more toys or stuffable animals. So, if you're looking to add a stuffable animal to your child's collection, take a look at the selection we have at The Zoo Factory today!