That stuffed animal has been at your child's side for what seems like ages. You can't picture one without the other. Except, you could probably stand to see the animal looking a little cleaner! When a well-loved stuffy has seen better days, performing a little magic cleaning can have it looking like new again.
Firstly consider a few factors when determining how to clean the stuffable animal. For instance, the older the animal is, the more fragile it has become. Harsh scrubbing may end up doing more damage than good, so it's best to approach cleaning mildly and gently. Also, you will want to gage your level of cleaning on how the stuffy is constructed and what materials from which it is made. An animal with sturdy stitching and heat-friendly stuffing might do well being machine washed and dried. But an animal bonded by glue, or with moving parts will not fair well in a washing machine and dryer.
However, some stuffed animals are machine safe. Those made for babies are typically made of soft, fleecy material and usually made to be washed in the washing machine. After all, babies tend to chew, drool and spit up on things in the crib. Always read labels or use your best judgment. Those stuffed animals that may operate by battery often have a battery removing system so that they can be washed. When possible, be sure to remove any battery compartments or other non-washable parts before washing.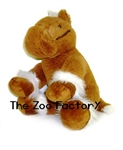 Follow all directions on labels when you can. For instance, if it says wash by hand, sometimes you can get away with a gentle cycle on the washer. But if it says surface clean only, it is best to comply. Be sure to remove any bows or accessories before washing in a machine. Not only can these items fall off or get ruined in the machines, but they have a nasty habit of working their way inside the machine and can cause serious problems for your appliances.
Animals that have been loved hard sometimes don't make the cut anymore. Those that are deemed unsalvageable should be tossed. However, if is very meaningful, try to replace it with a new one before tossing the old. Also, if you are going to throw it out anyway, try it in the washing machine just in case. You haven't got anything to lose!
Learning how to spot wash or wash by hand is a value to the beloved build a stuffed animals.  Take a vacuum brush to the animal and gently remove dust and dirt. An upholstery cleaner may also be used on the stuffed animal, but be sure to test an area of the stuffed animal first. And avoid using harsh chemical cleaners on any stuffed animal that may go into the child's mouth. A safe, non-toxic cleaner can be made of warm water and a squirt of liquid dishwashing soap. Beat the liquid and soap on a medium speed until foamy. Sponge clean the animal and use a spray water bottle to remove the suds. Let the animal air-dry. If desired, fluff the animal on a low heat or delicate dryer setting.